Product Description
1000kw new Generator Hot Selling
Technical performance of generators
HJI series generators are brushless AC synchronous generators that meet national and international standards.
Mechanical characteristics of generators:
1, steel structure seat
2, all road and marine generator protection level standard type IP22, IP23 as an optional protection level, can prevent water drops in the vertical direction within 60 degrees of damage, but the rated power dropped by 5 %
3, the single fulcrum generator adopts a multi-standard disc type coupling, easy to connect with various engine flywheels
4, the use of sealed ball bearings, no need to add grease
Electrical characteristics of generators
1, insulation level H
2, all generator stator winding is 2/3 pitch winding, effectively eliminating the third harmonic voltage
3, the stable voltage adjustment rate is ± 0.5 %
4, excitation stator is equipped with permanent magnet, the generator will not lose magnetism, always can build pressure
Type of generator
There are many forms of generators, but their working principles are based on the laws of electromagnetic induction and electromagnetic force. Therefore, the general principle of its structure is to use appropriate magnetic guides and conductive materials to form magnetic circuits and circuits for electromagnetic induction to generate electromagnetic power and achieve energy conversion.
The classification of generators can be summarized as follows: DC generators, AC generators, synchronous generators, asynchronous generators(rarely used)
The alternator can also be divided into a single-phase generator and a three-phase generator.
Structure and working principles
Generators are usually composed of stator, rotor, end cover, electric brushes, seats and bearings.
The stator is composed of a pedestal. The stator core, a wire winding group, and other structural parts that fix these parts.
The rotor consists of a rotor core, a rotor magnet(with a magnetic ring, a magnetic pole winding), a sliding ring,( 57213128, 57213115, 57213106, 57213096, 57213079, 57213068, 57212988,also known as a copper ring, a collector ring), a fan, and a shaft.
The stator and rotor of the generator are connected and assembled through bearings, seats, and end covers so that the rotor can rotate in the stator, and a certain excitation current is passed through the sliding ring to make the rotor a rotating magnetic field. The stator coil cuts the magnetic field. The motion of the line, In this way, an induced potential is generated, which is drawn through the junction terminal and connected to the loop to generate an electric current. Since the brush is connected to the rotor at the break point, the rotor rotates in a certain direction to produce an alternating current. Therefore, the domestic circuit and other circuits are alternating currents, referred to as alternating current. The frequency of electric current output in China is 50 Hz.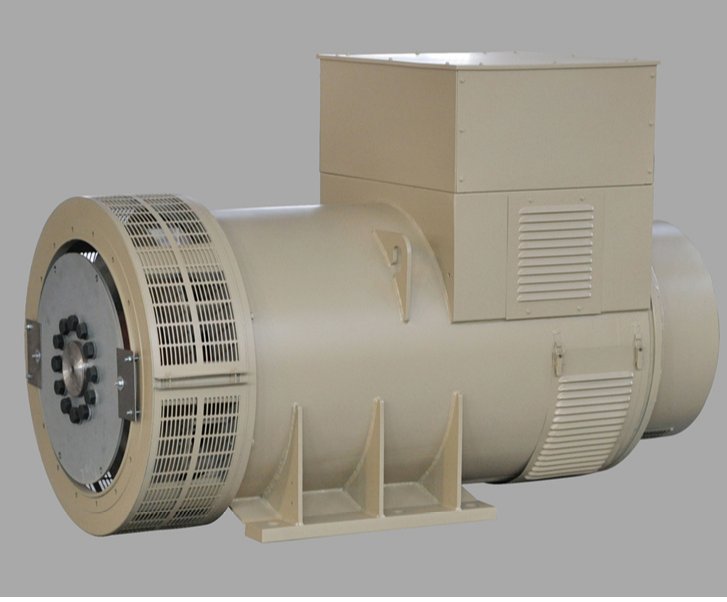 Jiangsu Lingyu Electric Machinery Co. Ltd. is a new modern generator manufacturer integrating scientific research, teaching and production of brushless generators. The total area of 71,280 square meters, assembly workshop covers an area of 46,200 square meters. The company introduces the excellent generator production technology, the production of "lead", "Kohong" brand brushless generator has an international quality and performance.

Jiangsu Lingyu leads to serve the masses of new and old customers with excellent quality, superb technology, perfect after-sales service and reasonable price. Our company has an annual sales volume of over 1,000, producing various generators. The company has a strong scientific research and production technology and equipment advantages, production of the main products: collar brand generators, used by many supporting factories. The product passes IS 09001-2000 international quality system certification and ISO14000 international environmental system certification. In order to improve our production capacity and meet the needs of the rapidly growing market at home and abroad, our assembly shop produces various types of generators and generator sets in an assembly line manner. We produce the 6.5 KW-2000 KW generator and 6.5 KW-2000 KW generator set for export to China and abroad and received consistent praise from customers at home and abroad.
In the configuration of the generator set, the internationally renowned brands are selected for the combination. The engines mainly include: Volvo, South Korea Daewoo, German Mercedes, Cummings, Shanghai Diesel Engine, Jichai, Weichai, Daoyici, Perkins, and Steyr. complete specifications. Generators are selected to produce high-end generators of their own name. Through fine assembly, strict testing, high-precision instrumentation and other key components are purchased globally, forming our own characteristics, and their performance prices have a great competitive advantage in the same industry. We will do better because of our concentration.

"Leading" and "Ke Hong" are establishing a good reputation among the global generator industry and customers with convincing quality and service. Today, the leading and Ke Hong people are using great enthusiasm. In order to lead and Ke Hong to become one of the best companies in the international industry and unswerving efforts.